---
Political Memo : Bush's Moves to Assure Right Ignite Storm on Left
New York Times
RICHARD W. STEVENSON
April 8, 2001
President Bush and his wife, Laura, boarded Air Force One on Friday, bound for Milwaukee and the opening of the Brewers' Miller Park.
On issue after issue in his first few months in office, President Bush has heartened and reassured conservatives.
But in pleasing the right, Mr. Bush has infuriated many liberals. And in doing so, he has helped re-energize some of his most vocal political opponents and provided a rallying cry for those politically active Democrats who were already fuming over how the presidential campaign ended.
Environmental groups, labor unions, abortion rights organizations and other powerful Democratic constituencies said that in dealing them some harsh early setbacks, Mr. Bush had given them a chance to motivate their supporters at the grass-roots level, to raise money and to challenge any claim the new president had to being a moderate.
"What Bush has done since the election is affronted and slapped in the face every major activist constituency," said Roger Hickey, co-director of the Campaign for America's Future, a liberal advocacy group. "They've attacked labor. They've undermined regulations the environmentalists care about. They've outraged women. They've given each constituency a reason to say to its troops, let's change this equation."
Some of the ire among liberals stems from personnel choices made by Mr. Bush, particularly his selection of John Ashcroft, a strong opponent of abortion rights, as attorney general. And some stems from a flurry of policy decisions by Mr. Bush, including his moves to reverse or suspend regulatory actions and executive orders issued by former President Bill Clinton in the waning days of the last administration.
Unions have been upset by the new administration's decision to roll back workplace safety rules and end preferences granted to unionized companies in bidding for government-financed building programs.
Environmentalists have bitterly protested Mr. Bush's decision not to seek limits on carbon dioxide emissions or otherwise support an international agreement seeking to limit climate change, and to undo new limits on arsenic in drinking water.
Supporters of abortion rights were angered by Mr. Bush's decision to end federal financing for international family planning groups that support abortion.
"Not since Clarence Thomas was nominated to the Supreme Court have I seen such a spontaneous and strong reaction from people at the grass roots," said Kate Michelman, president of the National Abortion and Reproductive Rights Action League. "They hit the phones, the faxes and the e-mails even before we got ourselves focused on exactly what we would do."
White House officials say much of the criticism from liberal groups is unfair, asserting that Mr. Bush, for example, has supported some of the Clinton administration's environmental actions, like limiting diesel emissions. They say many of the groups are more focused on playing politics than on addressing issues.
"Their actions also are indications that the previous administration tilted the playing field toward groups that oppose the president," said Ari Fleischer, the White House spokesman. "The president is restoring the balance and the middle ground."
Some Democrats said Mr. Bush had stepped into a trap left by Mr. Clinton, whose last-minute actions forced the new administration to grapple immediately with many charged issues it might otherwise have delayed, especially those involving labor and the environment.
Aides to Mr. Clinton said the regulations had been in the pipeline long before the election was resolved. But they said they knew as they left office that Mr. Bush would pay a political price if he reversed actions they believed had strong support.
"Bush has really lit a fire, especially on the environmental issues," said John D. Podesta, who was Mr. Clinton's chief of staff. "People are really angry about it, and incredulous that on decision after decision he has sided with the special interests."
The liberal advocacy groups say that Mr. Bush's actions have helped them raise money and recruit members, and that they have been able to flood the White House and the offices of lawmakers with messages from their supporters.
Still, it is unclear whether the liberal groups will be able to harness the strong feelings among their supporters to practical political effect.
Although they have taken heart from the difficulty Mr. Bush has had getting his budget through the evenly divided Senate, they have had little success in blocking or reversing any of Mr. Bush's other initiatives. And it is too early to say whether Mr. Bush will be able to maintain some claim to the political center as his term progresses, and what role the left- right clash might have in the midterm elections next year.
But it seems clear that whatever other effects it will have, Mr. Bush's move to the right and the reaction from the left will make it hard for him to "change the tone" of intense partisanship in Washington, as he frequently pledges to do.
Steve Cochran, director of strategic communications for Environmental Defense, said some environmental groups, including his, had been optimistic about working with Mr. Bush to find common ground and compromises. Now, he said, liberals were starting to have the same kind of visceral negative reaction to Mr. Bush that conservatives had to anything associated with Mr. Clinton.
"These decisions — both the content and the style in which they were announced — have further polarized the situation and made people dig in more rather than relax," Mr. Cochran said.
Steve Rosenthal, the political director of the A.F.L.-C.I.O., said the labor federation's president, John J. Sweeney, had recently directed union officials to go to "war footing."
Mr. Rosenthal said organized labor was developing a campaign to shape public perceptions of Mr. Bush. He said the campaign would seek to pressure Republican lawmakers from states where Al Gore did well in the 2000 presidential race.
"We will begin to get out information on exactly who George W. Bush is and what so-called compassionate conservatism is in terms of wrecking workers' rights and workplace protections," Mr. Rosenthal said. "It's a great opportunity for us to define George W. Bush."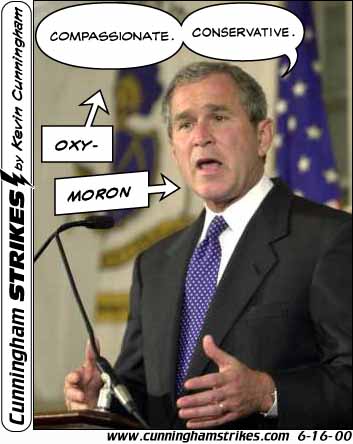 ---

---